PressClub Asia · Article.
"10 questions to…" Nils Steinbrecher, Managing Director, TES Sustainable Battery Solutions, APAC, and EMEA.
All you need to know about recycling EV batteries.
Note: The press material and infographic + photos can be downloaded at https://bit.ly/bmwa-tes
Singapore. BMW Group Asia is well on its way fulfilling its promise of bringing new and exciting electric vehicles (EVs) to Singapore. Ahead of the launch of the new BMW iX3 and the first-ever BMW iX, the fully electric technological flagship, we turn our attention to the most important part of an EV – its battery.
We speak to Nils Steinbrecher, Managing Director of TES Sustainable Battery Solutions, APAC, and EMEA, who tells us more about the importance of considering how batteries are produced and recycled, and how they come full circle at the end of the vehicle lifecycle.
WHY IS IT IMPORTANT TO RECYCLE ELECTRIC VEHICLE (EV) BATTERIES?
Recycling batteries is important as it reduces the impact on the environment, society, and is ethically sound.
When producing lithium-ion batteries, 30%–50% of greenhouse gas emissions occur during the extraction of lithium and cobalt. The artisan mining of such raw materials (e.g. cobalt) in areas such as the Congo also raises additional social and ethical concerns.
Fortunately, recycling batteries reduces the need for extraction of these materials, thereby reducing the negative impact it has on the environment and society. It also serves as a sustainable method of preserving battery commodities in times of scarcity.
As the demand for lithium-ion batteries increases, the availability of raw materials for their production is limited. Therefore, recycling batteries secures these primary raw materials and adds another source to the supply of scarce resources, especially in countries where such materials are not available from mining, such as in Europe.
HOW DOES RECYCLING ELECTRIC VEHICLE (EV) BATTERIES HELP THE ENVIRONMENT AT END-OF-LIFE?
Recycling also reduces environmental contamination and safety risks at the end of a battery's life. If batteries make their way to a landfill, this can contaminate soil and groundwater; recycling them avoids this issue.
HOW URGENT IS IT TO ADDRESS THE CHALLENGES THAT WE ARE FACING WITH EV BATTERY RECYCLING?
We need to address these challenges now. The demand for batteries is set to increase 14-fold by 2030, and the projected volume of lithium batteries for recycling will increase 700-fold between 2020 and 2040.
According to the International Energy Agency, the number of electric vehicles on the road is expected to rise from 10 million in 2020 to over 145 million in 2030. Thus, mining demand for battery minerals is expected to soar and the automotive industry will play a critical role in the effort to combat climate change.
Furthermore, while only a small number of EV batteries have reached their end of life to date, millions of tons of batteries are expected to be decommissioned in the coming decades.
Finally, in the very near future, large amounts of battery scrap are expected in Europe from the battery giga-factories being built over the short term. Here, the amount of scrap is expected to be bigger early as they start production, compared to more efficient plants that have been running for a few years.
HOW ARE URBAN MINING AND TRADITIONAL MINING DIFFERENT, AND WHAT ARE THE VARYING ENVIRONMENTAL AND SOCIAL IMPACTS?
Traditional mining follows a linear economic model in which raw materials are mined, manufactured, consumed, spent, and disposed of.
This can have many negative effects, such as diminishing water quality and accessibility, reduced air quality, soil contamination, loss of biodiversity, and hazardous waste production. The social impacts include housing displacement, child labor, poor employment conditions, health and safety hazards, ecosystem instability, and sociopolitical conflict.
In recent decades, the shift from a linear economy to a circular economy model has been a key driver of waste management strategies. The circular approach is driven by the increasing need for primary raw materials due to the global growth of economies and populations. With the circular economy model, the emphasis shifts from limited and finite raw material reserves to growing human-made inventories of resources. This sets the stage for the emergence of urban mining.
Urban mining utilizes actions and technologies that aim to recover secondary raw materials and energy from the products of urban waste disposal. It thus allows for the systematic management of material resources (products, buildings, or waste) to achieve long-term environmental sustainability, conserve resources, and generate economic value.
Waste from electronics and electrical equipment (WEEE) is an example of this. Given its limited economic lifespan, this waste stream is constantly increasing. The concentration of some rare elements in WEEE can be extremely high. Rather than harvesting new raw materials from our planet, urban mining maximizes the recovery of such resources, which can be recycled, recovered, repurposed, reconditioned, and reused.
HOW LONG DOES THE EV RECYCLING PROCESS TAKE?
This depends on the characteristics of each battery – it can take from a few days to a few weeks. Below is a brief overview of the recycling process.
Receiving: Batteries undergo a visible inspection, voltage measurement, and thermography. Safety is a major concern here.
Dismantling: Batteries are dismantled to module or cell level by our certified electricians.
Module testing: Modules are tested to determine whether they must be recycled or can be used in second-life applications.
Deep discharge: Batteries that will be recycled are discharged to ensure safe recycling. The extracted energy is reused in the recycling process.
Material recycling: Battery modules/cells can be treated in mechanical and hydrometallurgical processes to recover cobalt, lithium, and other valuable resources in high purity.
WHAT MATERIALS CAN BE RECYCLED FROM AN EV BATTERY?
From our processes, we can recover lithium carbonate, cobalt hydroxide, sodium sulphate, graphite, copper, aluminum, and steel.
WHAT DO YOU DO WITH RECYCLED MATERIALS?
TES Sustainable Battery Solutions provides services and products designed to cover and support the overall life cycle, and to close loops through creating and improving circular ecosystems. We are involved in the production phase, use phase, and end-of-life phase with:
Refining industry and cell manufacturers
Original Equipment Manufacturers (OEM) / producers for IT high tech and the automotive industry
Second-life storage systems and renewable energy
All TES Sustainable Battery Solutions are centered around 4Rs:
Repair and remanufacture of batteries for first-life applications
Reuse and repurpose for second-life applications
Recycle batteries to produce black mass from the mechanical process
Recover raw materials from the black mass through the hydrometallurgical process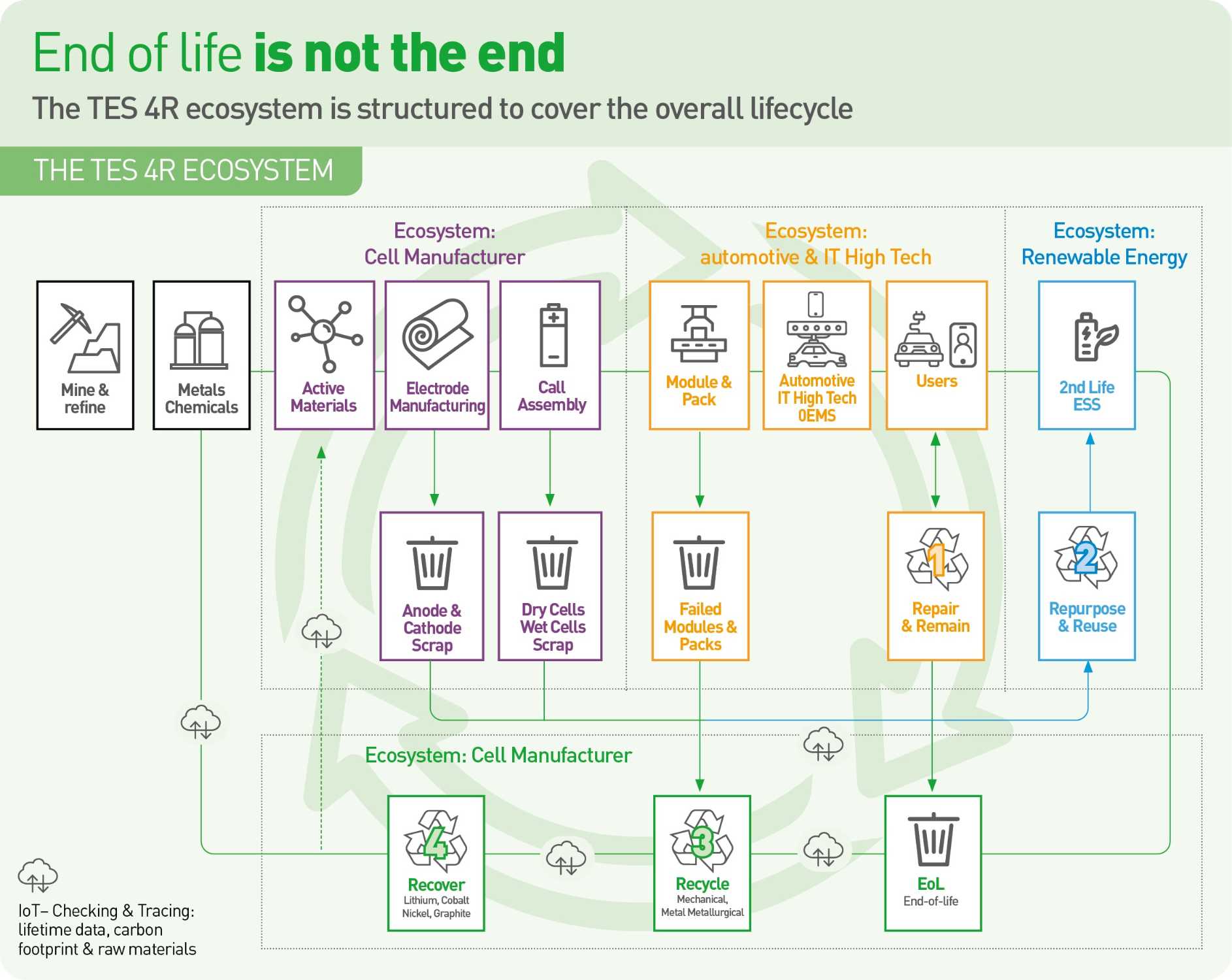 APART FROM RECYCLING, WHAT ELSE COULD BE DONE WITH BATTERIES? ARE THERE OTHER OPTIONS?
TES works with strategic partners to introduce Energy Storage System (ESS) offerings and scalable turnkey solutions, using retired electric vehicle batteries for various commercial and residential energy needs in the secondary market.
Second-life EV batteries are a viable power alternative for green energy plants, remote industrial power, and base transmit stations, among other applications.
Utilizing proprietary processes, TES extends the value of batteries and their materials well beyond the life of the product. Our closed-loop solution focuses on the 4Rs of repair/remanufacture, reuse/repurpose, recycle, and recover.
As can be seen in the graphic above (question 7), the battery value chain encompasses a range of different ecosystems, comprising cell manufacturers, automotive and IT battery OEMs, renewable energy utilities, recycling, and recovery.
All are interconnected by means of a wealth of data used for analysis and for battery management applications designed to maximize safety, performance, and battery life.
HOW MANY EV CAR BRANDS ARE YOU CURRENTLY WORKING WITH?
We are currently working with most big automotive brands around the globe. Of the current top 10 car manufactures, we have received batteries to be recycled from at least seven of them. Of course, all EV car brands have batteries to be recycled.
DO YOU RECYCLE EV BATTERIES FROM OTHER MARKETS?
TES is already recycling EV batteries around the globe. However, due to the volumes of EV batteries still being relatively small, we are currently focusing on a few major hubs; these are in Asia—with our state-of-the-art recycling plant in Singapore and our new plant in Shanghai to be commissioned at the end of 2021—as well as Europe, with one operating plant in France and a new and bigger plant in Rotterdam to be operational in 2022.
-End-
Article Offline Attachments.
Article Media Material.