PressClub United Kingdom · Article.
The new BMW X5 M Competition. The new BMW X6 M Competition.
BMW M GmbH is unveiling the third generation of its high-performance executive-class Sports Activity Vehicle (SAV) and Sports Activity Coupe (SAC) models.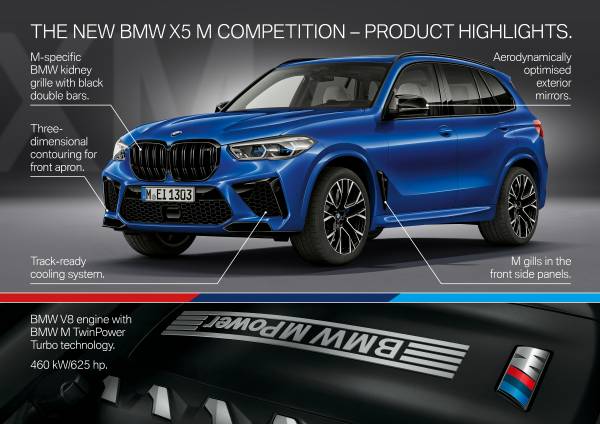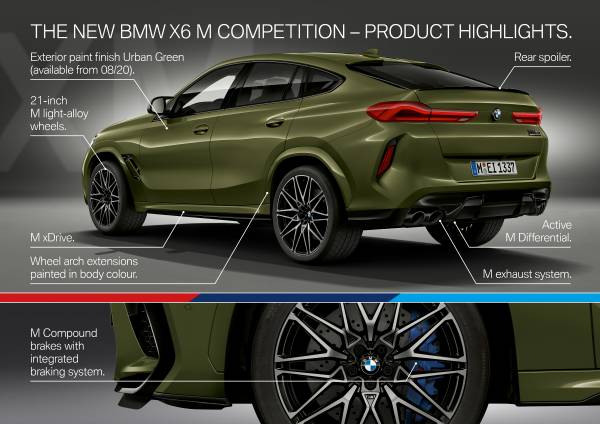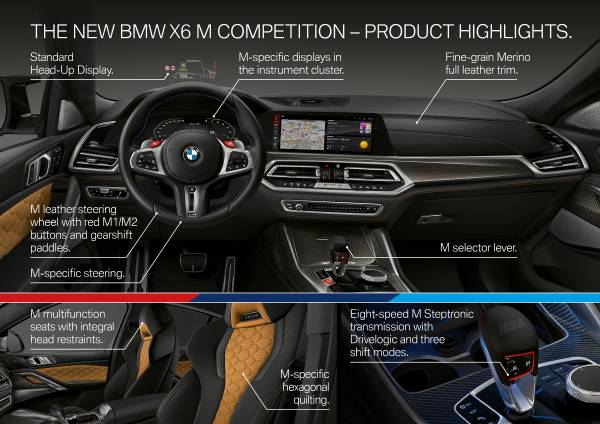 Third generation of the high-performance BMW M GmbH models in the luxury Sports Activity Vehicle (SAV) and Sports Activity Coupe (SAC) segments. Overall concept reprises the classical M blueprint for dynamics, agility and precision; combines with the versatility, extrovert design and modern luxury for which BMW X models are renowned:


BMW X5 M Competition Output: 625 hp, max. torque: 750 Nm; fuel consumption combined: 21.7 – 22.1 mpg; CO2 emissions combined: 296 – 291 g/km.
BMW X6 M Competition Output: 625 hp, max. torque: 750 Nm; fuel consumption combined: 22.2 – 22.6 mpg; CO2 emissions combined: 289 – 284 g/km.

X5 M Competition and X6 M Competition models available in the UK, available to order now at BMW retailers. X5 M Competition priced from £110,610 OTR and X6 M Competition priced from £113,310 OTR.


Show premiere at the Los Angeles Auto Show 2019. New BMW X5 M Competition and BMW X6 M Competition model will launch together from April 2020.


Significant power hike: high-revving 4.4-litre V8 engine with M TwinPower Turbo technology. Maximum output raised by 50 hp (Competition models) over predecessors – to 625 hp. Peak torque: 750 Nm. Ultra-high-rigidity engine mounting. Cooling and oil supply systems tuned to top-level dynamic performance. Sports exhaust system delivers emotionally stirring soundtrack.


Versatile power delivery of unwavering authority: eight-speed M Steptronic transmission with Drivelogic. Characteristics of M xDrive all‑wheel-drive system with rear-biased setup can be adjusted in 4WD / 4WD Sport modes. M xDrive teams up with Active M Differential to optimise traction and dynamics.


Matchless performance: Acceleration of 0 to 62 mph in 3.8 seconds (BMW X5 M Competition and BMW X6 M Competition) – up to 0.4 seconds faster than predecessors.


Unique overall concept raises performance above that of any rival. Seamless interplay of powertrain, chassis and body serves up sublimely controllable agility and dynamism in spades. Intensive setup work at the Miramas and Arjeplog testing facilities, on the Nürburgring-Nordschleife and at other race circuits.


Extensive package of measures increase stiffness of the body structure and suspension mountings. Model-specific chassis technology with bespoke kinematic and elastokinematic properties.


M-specific adaptive suspension with electronically controlled dampers, active roll stabilisation, M Servotronic steering and DSC (Dynamic Stability Control) including M Dynamic Mode. M light-alloy wheels in 21‑inch format at the front axle and 22-inch at the rear fitted as standard.


M compound brakes with outstanding stopping power. Integrated braking system enables individual configuration of pedal feel under braking.


Extrovert body design represents visual expression of supreme potency. Familiar SAV / SAC proportions combine with signature M features optimising cooling air supply and aerodynamics: large air intakes, BMW kidney grille with double bars, M gills on the front side panels, roof/rear spoiler, rear apron with diffuser elements, exhaust system with two sets of twin tailpipes. Competition models have standalone design elements. BMW Individual special paint finish available for BMW X models for the first time.


Exclusive, luxurious interior: raised seating position creates majestic M feeling. Generous feeling of space, high degree of variability, M‑specific cockpit design. BMW Head-Up Display with M-specific readouts fitted as standard. M multifunction seats and BMW Individual fine-grain Merino full leather trim also standard. Exclusive leather upholstery for the Competition models.


Setup buttons for direct access to the settings for the engine, dampers, steering, M xDrive and braking system. Two individually composed overall setups can be selected using M buttons on the steering wheel.


M Mode allows driver assistance system interventions, instrument cluster displays and Head-Up Display readouts to be configured individually. Choice of ROAD and SPORT settings, plus TRACK in the Competition models.


Standard specification includes BMW Live Cockpit Professional with navigation system and BMW Intelligent Personal Assistant, and the Parking Assistant. Large selection of driver assistance systems and BMW Laserlight available as options.


Note:  Please find attached the full press kit. It is a 1:1 copy of the original issued by BMW headquarters in Germany, and no adaptations have been made to cater for the UK market.


The BMW Group
With its four brands BMW, MINI, Rolls-Royce and BMW Motorrad, the BMW Group is the world's leading premium manufacturer of automobiles and motorcycles and also provides premium financial and mobility services. The BMW Group production network comprises 31 production and assembly facilities in 15 countries; the company has a global sales network in more than 140 countries.
In 2018, the BMW Group sold over 2,490,000 passenger vehicles and more than 165,000 motorcycles worldwide. The profit before tax in the financial year 2018 was € 9.815 billion on revenues amounting to € 97.480 billion. As of 31 December 2018, the BMW Group had a workforce of 134,682 employees.
The success of the BMW Group has always been based on long-term thinking and responsible action. The company has therefore established ecological and social sustainability throughout the value chain, comprehensive product responsibility and a clear commitment to conserving resources as an integral part of its strategy.

www.bmwgroup.com
www.bmw.co.uk
www.press.bmwgroup.com/united-kingdom/
Facebook: BMW UK
Twitter: @BMW_UK
Instagram: BMWUK
LinkedIn: BMW Group UK Limited
YouTube: BMW UK


For further information please contact:

Lauren Prema
BMW Media Relations Executive
Tel: 07815 370746
Email: Lauren.Prema@bmw.co.uk 
Chris Overall
BMW Media Relations Manager
Tel: 07815 370 990
Email: Chris.Overall@bmw.co.uk
Emma Begley
General Manager, Communications
Tel: 07815 371 062
Email: Emma.Begley@bmw.co.uk
Graham Biggs
Corporate Communications Director
Tel: 01252 921256
Email:  Graham.Biggs@bmw.co.uk 
CO2 EMISSIONS & CONSUMPTION.
BMW X5 M Competition fuel consumption combined: 21.7 – 22.1 mpg; CO2 emissions combined: 296 – 291 g/km
BMW X6 M Competition fuel consumption combined: 22.2 – 22.6 mpg; CO2 emissions combined: 289 – 284 g/km
Article Offline Attachments.
Article Media Material.