PressClub Belux · Article.
5x innovatie op de nieuwe BMW X5.
22.11.2018

Persbericht

Archief
Naar aanleiding van de nakende lancering van de nieuwe BMW X5 op 24 november, tonen wij u graag de off-roadcapaciteiten van de verschillende intelligente rijmodi (waaronder xSand) in een woestijnversie van het circuit van Monza. Daar bovenop delen we vijf features die de luxe en innovatieve capaciteiten van de nieuwe BMW X5 extra in de verf zetten.
Naar aanleiding van de nakende lancering van de nieuwe BMW X5 op 24 november, tonen wij u graag de off-roadcapaciteiten van de verschillende intelligente rijmodi (waaronder xSand) in een woestijnversie van het circuit van Monza. Daar bovenop delen we vijf features die de luxe en innovatieve capaciteiten van de nieuwe BMW X5 extra in de verf zetten.
Lastige uitrijmanoeuvres: nooit meer!
Binnen de D+ACES*-strategie van BMW is de ontwikkeling van autonoom rijdende wagens één van de vier innovatiepunten. Als eerste autofabrikant biedt het Duitse premiummerk op de nieuwe BMW X5 (en bij uitbreiding op de BMW 8 Reeks Coupé) een slimme achteruitrijassistent. De wagen onthoudt de laatste 50 meter die hij gereden heeft met een maximum snelheid van 36 km per uur. Met een eenvoudige aanwijzing op het touchscreen van de achteruitrijdisplay zal de wagen héél precies dezelfde route achteruit volgen met een maximum snelheid van 9 km per uur. De bestuurder houdt ten allen tijde de controle dankzij bediening van de gas- en rempedaal. Op die manier zijn onder meer lastige uitrijmanoeuvres in ondergrondse parkeergarages verleden tijd.
Biep biep. Digitale sleutel herkent u.
Het optionele Comfort Access van de BMW X5 omvat voortaan een BMW Digital Key,  en een digitale sleutel via Near Field Communications (NFC). Deze digitale sleutel is in eerste instantie beschikbaar voor alle Samsung Galaxy smartphones met Android 8.0 of hoger én kan ook gedeeld worden met tot vijf verschillende smartphones. Wanneer de wagen een digitale sleutel detecteert binnen eens straal van drie meter, zal de verwelkomingsverlichting aangaan. Binnen een straal van één meter zal de wagen automatisch ontgrendelen. Bij het zich verwijderenwegstappen van de wagen, zal de wagen zichzelf vergrendelen. Voor het comfort van de klanten, kunnen zij ervoor kiezen om deze automatische open- en sluitfunctie te laten begeleiden door een optioneel geluidsignaal. De klant krijgt bovendien een NFC kaart ter grootte van een bankkaart, die gedeeld kan worden met een parkeerbediende. Om de wagen te starten, volstaat het om de NFC-smartphone of –kaart in het wireless charging of smartphonevak te leggen.
Deur niet goed gesloten? De intelligente sfeerverlichting geeft het aan.
De LED-sfeerverlichting aan boord van de BMW X5 loopt van de bestuurdersdeur over het centrale dashboard door tot in de passagiersdeur. Niet alleen zorgt dit voor een aangenaam welbehagen aan boord van de wagen in het donker, deze heeft ook een functioneel karakter. Zo zal de LED-strip rood pulseren wanneer de deur niet goed gesloten is. Wanneer een telefoon via de standaard aanwezige bluetooth verbonden is, zal de sfeerverlichting ook inkomende oproepen mee aangeven. Verder heeft deze LED-strip ook een verwelkoming- en afscheidsfunctie.
Uw koffie warm, uw frisdrank koel.
De BMW X5 biedt bovenop een luxueuze rijervaring ook een enorm welbehagen aan boord. Zo zal de zetelverwarming ook de beide armsteunen (in de deur en op de centrale console) mee verwarmen. De centrale drinkbekerhouders vooraan voegen daar een smaakervaring bovenop. BMW heeft in deze bekerhouder een verwarmingselement ingebouwd dat ervoor zorgt dat een warme koffie warm blijft onderweg. Bij zomerse buitentemperaturen kan de bestuurder er dan bijvoorbeeld weer voor kiezen om zijn frisdrank koel te houden.
Geen verschuivende bagage meer.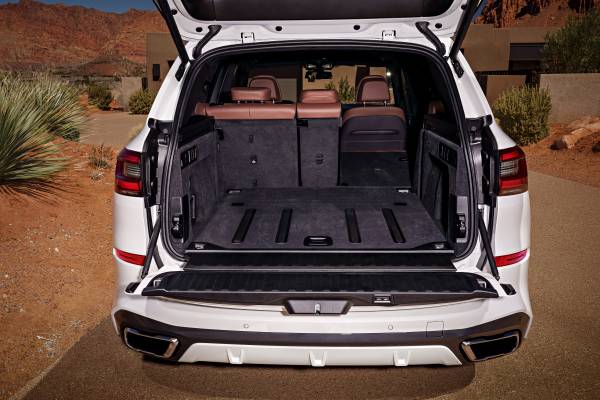 Vanaf december biedt BMW haar klanten de mogelijkheid om het antislip kofferruimtepakket te nemen. Vier antislip stroken komen na het starten van de BMW EfficientDynamics-motor omhoog en zorgen dat de kofferlading mooi op zijn plaats blijft. Na het uitzetten van de motor zinken deze stroken terug in de vloer weg. Echter, wanneer de wagen op een helling stopt, zal deze antislipfunctie actief blijven, om te vermijden dat koffers of dozen uit de kofferruimte zouden kunnen vallen.
De kofferruimte herbergt nog een andere optionele innovatie: het kofferafdekzeil is met een eenvoudige druk op een knop elektrisch wegklapbaar in de koffervloer. Op die manier biedt BMW zijn gebruikers een groter gebruiksgemak.
*D+ACES staat voor Design + Autonoom rijdende wagens + Connectiviteit + Electrificatie + Services
---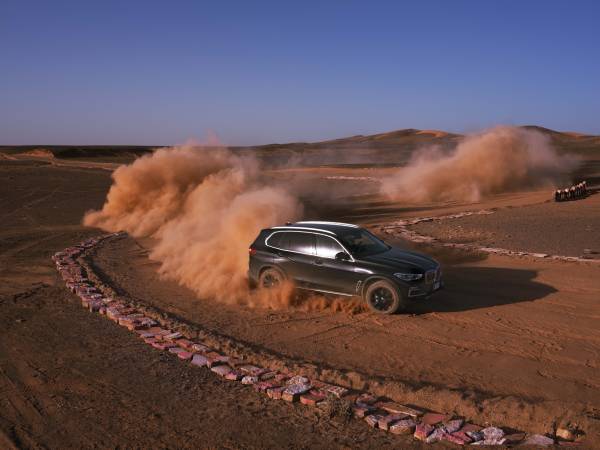 Munich/San Donato Milanese. For the launch of the new BMW X5 (fuel consumption combined: 11.6 – 6.0 l/100 km; CO2 emissions combined: 264 – 158 g/km; provisional figures), BMW Italy has created an undertaking like no other: bringing the iconic bends of Monza into the secular sand of the Sahara. The historic Monza circuit was reproduced in Merzouga, in one of the most desert areas of Morocco: a route of 5,793 meters that stands out among the sands and rocks of the Sahara. Every bend, every straight section, every chicane has been faithfully reconstructed on a 1:1 scale, both in the radius of curvature and in the distances.
For two weeks, more than 50 people including engineers, surveyors, technicians, workers and pilots have worked and contributed to realize this incredible project. It took 4 days of study and preparation with surveyors, engineers and architects, with 8 post for topographic design and simulation. For 9 days, 4 bulldozers and 4 trucks dug 24 cubic meters at a time to prepare the soil and remove excess sand; while 2 graders and 2 compactors have defined and compacted the track. Over 3500 cubic meters of earth have been moved to give life to the off-road track.
A monumental work that culminates in an unprecedented challenge: the new BMW X5, after having crossed Europe on a journey in stages, has reached the circuit of "Monza, Sahara" in the impervious Moroccan desert where, in the dunes of sand and rocks, has challenged one of the most hostile terrain on the planet and faced Lesmo, Ascari and Parabolica, giving evidence of its off-road ability, thanks to the new xOffroad package, which makes its debut on this model. The new BMW X5 was welcomed in Morocco by the new BMW R 1250 GS, the enduro motorcycle par excellence of BMW Motorrad, recently renovated with a new boxer engine, which was the forerunner in this undertaking.
The new BMW X5: the xOffroad package is an absolute news.
The BMW X family originated from the BMW X5 and today, in its fourth generation, this model stands out as it has never done before, both in terms of aesthetics and its modernity. The new BMW X5 impresses with its wealth of innovations and represents the most convincing incarnation to date of the familiar Sports Activity Vehicle (SAV) model: the ability to venture off-road perfectly combined with the pleasure of dynamic driving. Like its predecessors, the BMW X5 will be built at the Spartanburg BMW plant in the United States. The launch on the Italian market will be on 24 and 25 November 2018.
The new design of the Bavarian SAV enhances safety and solidity, conferred by the bigger dimensions, if compared to its predecessor, that contribute to the impressive appearance and an enviable interior space. The new BMW X5 maintains the typical proportions of a SAV, clean surfaces and precise lines that accentuate the robustness, safety and grandeur of the car. Even the interiors, cared for in every detail, are characterized by a modern design and an exclusive atmosphere.
The new chassis systems improve the off-road performance, sportiness and comfort of the new BMW X5. The SAV is equipped as standard with Dynamic Damper Control while the Adaptive M Professional suspension with active anti-roll stabilization and Integral Active Steering (making its debut in a BMW X model) guarantee extremely agile and dynamic driving characteristics. The air suspension of the two axles satisfies those looking for maximum driving comfort and allows the vehicle height to be adjusted by 80 millimetres by pressing a button or using the BMW Display Key.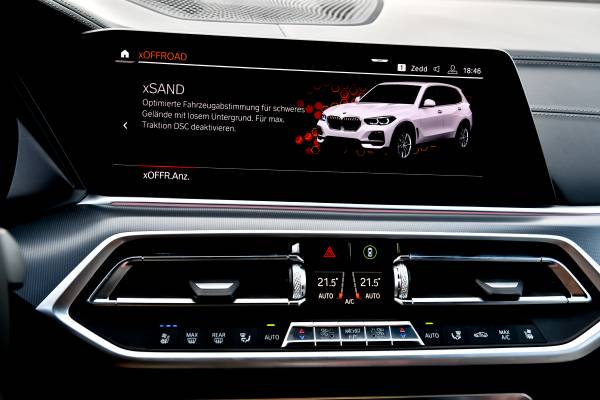 An absolute novelty for the model is the possibility for customers to choose the xOffroad package. A specific button gives the driver the choice between four off-road driving modes (xSand, xRocks, xGravel, xSnow), which automatically determine the ideal vehicle height settings, xDrive system, acceleration response and transmission control, and corrective inputs of the DSC system when you need to drive on sand, rocks, gravel or snow.
For all information on the project and the new BMW X5, visit www.bmw.it/x5.
Article Offline Attachments.
Article Media Material.