PressClub Asia · Article.
We Are ///M. BMW M celebrates 5 decades of thrilling history and community in Singapore.
24.05.2022
Press Kit
Top
Archive
Update
Record-breaking car formation and launch of BMW M 50 Jahre special editions kickstart festivities.
Singapore. Tuesday, 24 May 2022 marks the 50th anniversary of the launch of BMW M GmbH. Celebrations in Singapore of the most powerful letter in the world kicked off when BMW Singapore and Performance Munich Autos (PMA) brought more than 100 BMW M owners and their friends together at Gillman Barracks to form the number '50' with their cars on Sunday, 22 May 2022.
This landmark car formation was recognised by the 'Singapore Book of Records' for the "Largest Gathering of BMW M Cars in Singapore" with 55 BMW M cars, surpassing PMA's previous record of 41 cars on 23 February 2019.
"It is always exciting to bring passionate motorsport enthusiasts together in one place. PMA is proud to celebrate this benchmark event with yet another record-breaking car formation," said Mr. Arnt Bayer, Managing Director of Performance Motors Limited. "Just as this formation would not have been possible without these 55 BMW M customers, we wouldn't be celebrating this milestone without the M community's continuous support. We look forward to hosting more exciting activities for our BMW M customers and M enthusiasts as we celebrate the most powerful letter in the world."
Throughout the day, fans had the opportunity to test drive the latest BMW and BMW M models and connect with the BMW M community at a private breakfast event. They were also the first to view a Singapore-exclusive special edition of the BMW M3 Competition and the BMW M4 Competition.
50 exceptional units for an exceptional year – the BMW M 50 Jahre.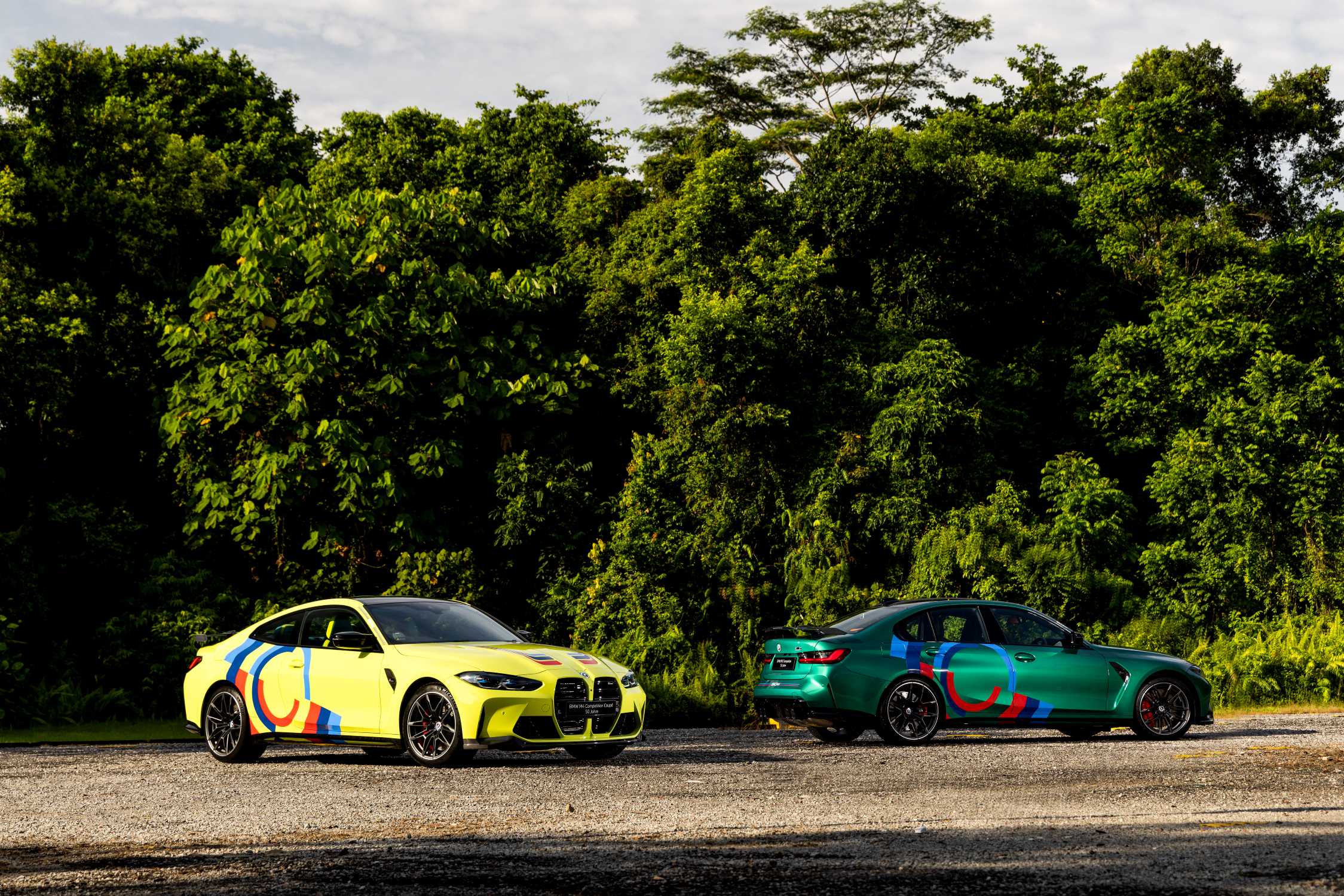 The BMW M 50 Jahre special edition will be presented across the entire BMW M and BMW M Performance range, with a limited run of 50 units in 2022. Each unit will be given the 50 Jahre treatment in combination with global and Singapore-exclusive offers. Fans can look forward to highlights such as iconic BMW M Individual paintwork, specially curated BMW M Performance parts, as well as a unique decal option.
"Today we are celebrating our past and our future, as we introduce a new era of performance, electrification and expressive lifestyle to BMW M," said Mr. Lars Nielsen, Managing Director, BMW Group Asia. "BMW M always appears different and new but can be instantly recognised. The BMW M 50 Jahre special editions exemplify this philosophy and I'm confident they will trigger goosebumps when seen on Singapore roads."
The range highlights are as follows:
BMW Motorsport emblem. All 50 Jahre special editions have their front, rear, and wheel hubs decorated with emblems inspired by the classic "BMW Motorsport" logo. The BMW logo with the shifted semicircles in blue, violet and red was first used in 1973 on the racing car of BMW Motorsport GmbH, which had been established a year before. Even beyond the motorsport scene it became a trademark with particularly high recognition value and identification power. Within the logo, the blue stands for BMW, while the red symbolizes racing, and the violet expresses the connection between the two. In the meantime, the violet has given way to a dark blue, and BMW Motorsport GmbH has been operating under the name BMW M GmbH since 1993.
Iconic BMW M paint finishes. In addition to the emblems, iconic and historically significant BMW M paint finishes will be offered for selected models in the anniversary year 2022. Style-defining colors such as Dakar Yellow, Macao Blue, Imola Red or Frozen Marina Bay Blue refer to the various eras of BMW M's 50-year history.
BMW M Performance parts. From the BMW M135i all the way to the BMW M8, an extensive selection of BMW M Performance parts are available across the range to facilitate advanced individualisation of the vehicles' striking design and further enhancement of their dynamic handling qualities. The high-quality range of accessories was developed in collaboration with the BMW M GmbH based on experience gained on the world's racetracks and the extensive know-how of their motorsport specialists.
The BMW M3 Competition 50 Jahre and BMW M4 Competition 50 Jahre are the first two BMW M cars to receive this anniversary treatment in Singapore. Both models feature curated M Performance parts that include front attachments, air breathers, and rear spoilers in carbon fibre.
In the coming weeks, further iterations of the BMW M 50 Jahre will be announced, and particularly performance-oriented fans can look forward to the launch of the first electrified high-performance model in the history of BMW M GmbH.
Additional information enclosed:
The BMW M3 Competition 50 Jahre and BMW M4 Competition Coupé 50 Jahre prices.
-End-
The BMW M3 Competition 50 Jahre and BMW M4 Competition Coupé 50 Jahre prices.
| | | |
| --- | --- | --- |
| Model | VES Band | Retail price (at press time) |
| BMW M3 Competition 50 Jahre | C2 | $545,888 |
| BMW M4 Competition Coupé 50 Jahre | C2 | $550,888 |
Article Offline Attachments.
Article Media Material.