PressClub Canada · Article.
BMW Group Canada reports March, 2019 sales.
02.04.2019

Press Release

Top
• BMW March sales increase +0.8% over previous year • Deliveries begin for the first-ever, three-row, luxury BMW X7 • The seventh generation BMW 3 Series Sedan goes to market • First quarter deliveries of the MINI John Cooper Works sub-brand accelerate by +67%
Richmond Hill, ON.  BMW Group Canada (BMW and MINI brands combined) reported sales of 3,638 vehicles for the month of March. This result represents a change of +0.5% compared to March, 2018. 
"Despite the headwinds facing the entire automotive industry, BMW Group Canada, with its strong BMW, MINI and Motorrad brands, has achieved growth in highly competitive market segments.  Our light truck sales increased by +39% year over year," commented Hans Blesse, President & CEO, BMW Group Canada.
"The largest model launch offensive in our history is proving to be a winning strategy.  Our expanding portfolio of Sports Activity Vehicles is perfectly aligned to the demands of the Canadian consumer.  Record sales of the BMW X2, BMW X3, and all-new BMW X5 confirm we have hit the mark on performance, luxury and design as BMW Sports Activity Sales reach 71% of total new car sales.  With deliveries of the ultra-luxurious, full-sized, three-row BMW X7 commencing in March, BMW's SAV position will only grow stronger."
"Additionally, we are extremely proud to have begun deliveries of the completely redesigned, seventh generation BMW 3 Series Sedan to customers across Canada," continued Blesse.  "The iconic sports sedan invented a segment over forty years ago, and continues to lead in so many ways.  Modern design, exceptional handling, efficiency and innovative technology are all signature characteristics of the BMW 3 Series.  These traits have been developed to a higher level than ever in this new generation through tireless engineering and testing."
"I'm pleased to have finished the first quarter on a positive note.  Our new product launches combined with a strong retail network have us well positioned for the coming months," concluded Blesse.  
BMW.
The BMW brand delivered 3,087 new vehicles in March, an increase of +0.8% compared to 2018.  In addition to increasing BMW Sports Activity Vehicle sales, purchases of the next generation BMW 8 Series Coupe are exceeding expectations.  Sales of BMW top-luxury vehicles, including the aforementioned BMW X7, have increased +82% in the first quarter of 2019 versus the previous year.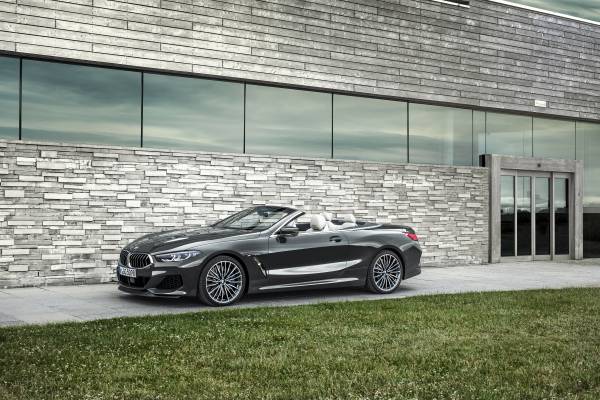 MINI.
551 fortunate individuals and families took delivery of a brand new MINI in March, mirroring last year's sales result.  A clear message from MINI buyers is that Canadians are ready for spring with sales of the MINI Convertible increasing +27.5% for March 2019, and deliveries of the high performance John Cooper Works brand increasing +93% over March, 2018.
Table 1: New Vehicle Sales BMW Group Canada, March 2019
 

March 2019

March 2018

YoY %

YTD March 2019

YTD March 2018

YoY %

 
 

BMW Brand

3,087

3,063

0.8%

7,516

8,210

-8.5%

 

BMW Passenger Cars

937

1,521

-38.4%

2,167

3,325

-34.8%

 

BMW Light Trucks

2,150

1,542

39.4%

5,349

4,885

9.5%

 

MINI Brand

551

556

-0.9%

1,139

1,257

-9.4%

 

TOTAL Group

3,638

3,619

0.5%

8,655

9,467

-8.6%

 
Motorrad.
The all-new, large displacement boxers are proving to be exactly what Canadians are looking for in the upcoming riding season.  Sales of the BMW R1250GS and BMW R1250GS Adventure lead the way in the first quarter of 2019, up +23% over 2018.
Table 2: Motorcycle Sales BMW group Canada, March 2019
 

 

March  2019

 

March  2018

       YoY %

YTD March 2019

YTD March 2018

YoY %

                       BMW Motorcycles

 

191

 

226

 

-15.5%

 

320

 

373

 

-14.2%
                                                       -30-
BMW Group in Canada
BMW Group Canada, based in Richmond Hill, Ontario, is a wholly-owned subsidiary of BMW AG and is responsible for the distribution of BMW luxury performance automobiles, Sports Activity Vehicles, Motorcycles, and MINI.  BMW Group Financial Services Canada is a division of BMW Group Canada and offers retail financing and leasing programs and protection products on new and pre-owned BMW and MINI automobiles, as well as retail financing for new and pre-owned BMW Motorcycles. A total network of 50 BMW automobile retail centres, 21 BMW motorcycle retailers, and 30 MINI retailers represents the BMW Group across the country.
For more information, please contact:
Marc Belcourt, Director, Corporate Communications
BMW Group Canada
905-428-5078 / marc.belcourt@bmwgroup.ca                                 
Barb Pitblado, Manager, Corporate Communications
BMW Group Canada  
905-428-5005 / barb.pitblado@bmwgroup.ca
Article Offline Attachments.
Article Media Material.