PressClub Canada · Article.
BMW Group Canada reports Q3 2023 sales results.
04.10.2023
Press Release
Top
• Sales of top luxury and electrified models drive 17% growth for BMW. • MINI enjoys increase of more than 10%. • BMW Motorrad up more than 8% year-to-date.
Press Contact.
Marc Belcourt
BMW Group

Tel: +1-905-428-5078
Fax: +1-905-428-5071

send an e-mail
Richmond Hill, ON. BMW Group Canada (BMW and MINI brands combined) reported sales of 8,960 vehicles for the third quarter of 2023, an increase of nearly 16.2% compared to Q3 2022. On the year, BMW Group Canada is up nearly 13% with 26,530 units sold.
"It's wonderful to see Canadians joining us on our journey towards a more electric and sustainable future," said David George, president and CEO, BMW Group Canada. "Canadian luxury shoppers are clearly embracing electrification; half of the sales of the new BMW 7 Series were the purely electric version. Our product line-up offers tremendous variety with models ranging from the all-electric four-door BMW i4 all the way through to the high-performance, luxury plug-in hybrid Sports Activity Vehicle, the BMW XM. With the imminent arrival of the all-electric BMW i5, our electrified portfolio continues to expand. We're looking forward to showing Canadians what the electric future holds at BMW."
"It's great to watch MINI's success, as well," continued George. "Looking ahead for the MINI brand is very exciting. A case in point is the recent unveiling of the all-new, purely electric MINI Cooper: Full of tradition but also looking towards an all-electric future…a future that is certainly bright. It is an exciting time on the electrification front at the BMW Group."
"We are grateful to our retail partners for their tremendous contribution to our third quarter success. BMW Group Canada would not be where it is today without their support. Not only do they manage customer interactions in a first-class manner, but their passion for our products is contagious, as seen by our strong sales results so far this year," concluded George."
BMW.
The BMW brand sold 7,946 units in the third quarter of 2023, which represents an increase of 17% over Q3 2022. Sales of electrified vehicles for the premium brand were up 26% compared to Q3 2022, and high-luxury models also made a significant impact on the quarter, with both the BMW XM and all-new BMW 7 Series making strong contributions. The 7 Series now offers a pure-electric option at price parity with the internal combustion variant. While the 7 Series recorded a strong quarter, the new electrified model clearly captured the hearts and minds of luxury-seeking, sustainability-conscious customers as half of all BMW 7 Series sales for the quarter were equipped with the purely-electric drivetrain.
On the other end of the BMW model spectrum, the all-new BMW X1 had a tremendous quarter, as well. Launched at the end of last year, the refreshed compact Sports Activity Vehicle impressed entrants to the premium segment with its third-generation, more-premium design, increased spaciousness and tech-focussed interior.
MINI.
MINI posted sales of 1,014 units for the third quarter of 2023, an increase of 10.1% compared to the same period last year.
The MINI Convertible enjoyed its summer, increasing in sales volumes by nearly 74% compared to Q3 2022. The MINI 5 door and MINI Countryman also enjoyed sales increases, posting gains of more than 44 and 36% respectively versus Q3 2022. Plug-in hybrid volumes more than doubled, as well.
Fans of the brand can look forward to the fifth generation of the venerable MINI Cooper. It combines the traditional MINI DNA with innovative, future-oriented technology while enabling the locally emission-free driving fun that is typical of MINI.
| | | | | | | |
| --- | --- | --- | --- | --- | --- | --- |
| | Q3 2023 | Q3 2022 | YoY% | YTD Q3 2023 | YTD Q3 2022 | YoY % |
| BMW Brand | 7,946 | 6,790 | 17.0% | 23,188 | 20,889 | 11.0% |
| BMW Passenger Cars | 2,254 | 2,243 | 0.5% | 6,933 | 6,005 | 15.5% |
| BMW Light Trucks | 5,692 | 4,547 | 25.2% | 16,255 | 14,884 | 9.2% |
| MINI Brand | 1,014 | 921 | 10.1% | 3,342 | 2,610 | 28.0% |
| TOTAL Group | 8,960 | 7,711 | 16.2% | 26,530 | 23,499 | 12.9% |
Table 1: New Vehicle Sales BMW Group Canada, Q3 2023.
BMW Motorrad.
BMW Motorrad's broad product range continues to impress both street bikers and off-road enthusiasts alike, helping the brand increase sales in Canada by more than 8% year-to-date compared to the same period in 2022. The top selling models for the quarter cover the gamut, ranging from the R 1250 GSA to the S 1000 RR.
The recently-revealed BMW Motorrad R 1300 GS will have Canadian motorcycle fans itching for the riding weather to continue. Having established the touring enduro segment four decades ago, BMW Motorrad has ensured the new model pulls its weight – by creating an impressive weight savings of 12kg compared to the previous model. It is by far the most powerful BMW boxer engine ever to be produced in series.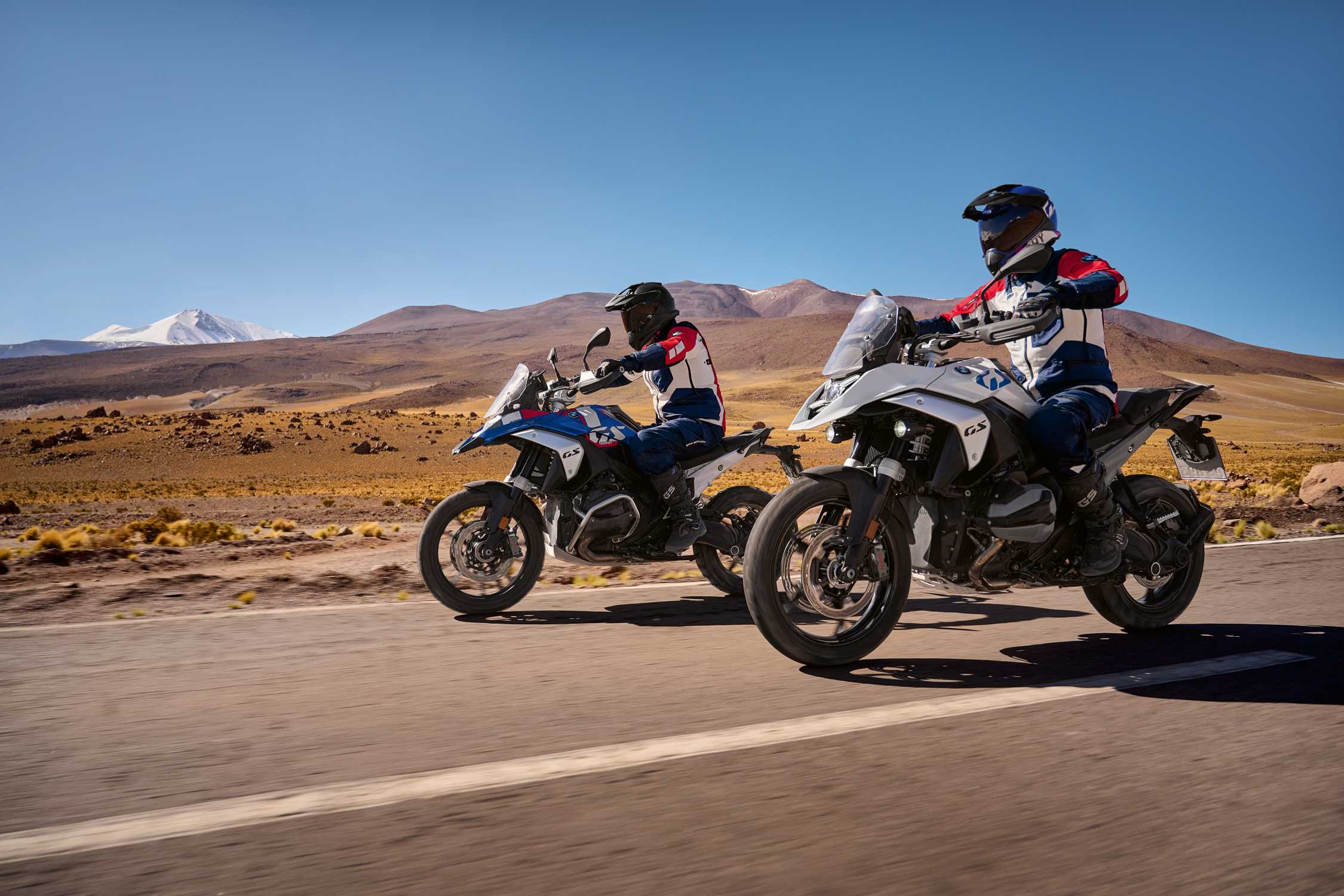 The new BMW Motorrad R 1300 GS.
| | | | | | | |
| --- | --- | --- | --- | --- | --- | --- |
| | Q3 2023 | Q3 2022 | YoY% | Q3 YTD 2023 | Q3 YTD 2022 | YoY% |
| BMW Motorcycles | 543 | 634 | -14.4% | 2,452 | 2,261 | +8.4% |
Table 2: Motorcycle Sales BMW Group Canada, Q2 2023.
BMW Group in Canada
BMW Group Canada, based in Richmond Hill, Ontario, is a wholly owned subsidiary of BMW AG and is responsible for the distribution of BMW luxury performance automobiles, Sports Activity Vehicles, Motorcycles, and MINI. BMW Group Financial Services Canada is a division of BMW Group Canada and offers retail financing and leasing programs and protection products on new and pre-owned BMW and MINI automobiles, as well as retail financing for new and pre-owned BMW Motorcycles. A total network of 50 BMW automobile retail centres, 21 BMW motorcycle retailers, and 31 MINI retailers represents the BMW Group across the country.
For more information, please contact:
Marc Belcourt, Director, Corporate Communications
BMW Group Canada
905-428-5078 / marc.belcourt@bmwgroup.ca
Barb Pitblado, Manager, Corporate Communications
BMW Group Canada
905-428-5005 / barb.pitblado@bmwgroup.ca
Article Offline Attachments.
Article Media Material.