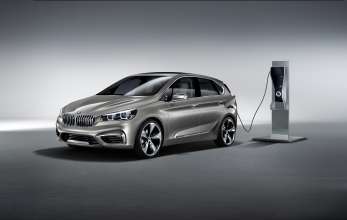 17.09.2012
ARCHIV
Press Kit

Contains file attachments

Contains photos

Contains videos
At the 2012 Paris Motor Show, three fascinating concept studies will point the way forward to a future defined by both sustainability and driving pleasure. What is more, BMW sends out an impressive signal in terms of efficiency, premium quality and innovative technology with its latest models in a range of vehicle segments. BMW Connected Drive innovations and the BMW M Performance accessories round off the appearance at the Paris show....
---
02.09.2011
ARCHIV
Press Release

Contains file attachments

Contains photos

Contains videos
With groundbreaking technology and innovative vehicle concepts, the premium car manufacturer BMW takes a central role in shaping the future of individual mobility. The latest developments, which ensure that both the current and future models will provide driving pleasure typical of the brand, combined with steadily improving efficiency, will be presented by the company at the 2011 Frankfurt Motor Show (IAA) in Germany. The most important car show in the...
·
·
·
·
·
·
·
·
·
---
24.09.2010
ARCHIV
Press Release
BMWUSANews.com was designed specifically for media in the U.S. market and functions as the comprehensive resource for the following sources of information: * News Releases * Press Kits * Monthly Sales Reporting * Vehicle Specifications * Images * Video * Auto Shows & Events
·
·
·
·
·
·
·
·
·
My.PressClub
If you would like to use the extended news and download-services, please register.